Next plan untuk marketng tools TQA adalah 'Loyalty Card'. Untuk permulaan, kita gunakan khidmat Photobook Malaysia sebab senang nak design dengan onine editor yang mereka sediakan. Nak dapatkan harga terbaik of course kita pilih voucher daripada
Groupon Malaysia
.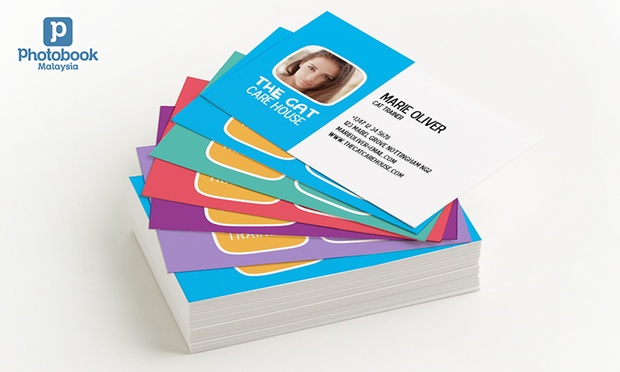 Cara nak buat tempahan hanya dengan 3 langkah mudah:
Register/Login user Photobook Malaysia
Tentukan rekaan kad untuk depan dan belakang. Proses ni ambil masa jika kita baru nak fikirkan macam mana rupa kad yang nak dibuat untuk dua belah kad (2 side)
Buat tempahan dengan memasukkan kod voucher semasa proses check out. Pada permulaan memang akan nampak harga kad sebenar so jangan risau sebab lepas guna kod voucher Groupon kita tak akan dikenakan harga tersebut (kos penghantaran tidak termasuk)
From RM3.90 for 50 Personalised Business Cards from Photobook Malaysia (worth up to RM52). More Options Available
Product Specifications and Features
Dimension: 85mm x 55mm
Paper: 270gsm uncoated smooth paper
Delivery charges
Pen. M'sia: RM8
East M'sia: RM12


Highlights
Business card printing with choice of design ranging from customisable templates or self-prepared layouts.
Nationwide delivery available.
Online redemption period strictly between May 6, 2016 - Nov 6, 2016.
Limit 1 Groupon per customer for free option.
Entire value must be used in one order. No cash back.
Not valid with Photobook mobile app.
7-day guaranteed shipping is subject to terms and conditions.
Valid at Photobook Malaysia.
Enquiries: support-my@photobookworldwide.com.
How It Works
Upon purchase, activate your Groupon Voucher Code by filling in http://www.pbww.org/gpmy-bc10 and follow the instructions.
Click the "Start Now" button to start personalizing your cards.
Select your preferred size at "cards" section followed by the template design.
Sign in or create a new account.
Complete the card design by uploading pictures, adding text, and customising the layout.
Click the green 'Shopping Cart' icon to submit your photobook.
For multiple copies, please change the quantity of the card to the number of copies that matches your Groupon voucher.
Complete the order form and enter your activated Groupon Voucher code in "Voucher Code" field located in "Payment" page and click on "Redeem" button.
Finish your order by following the instructions as prompted.
Visit http://www.photobook.com.my/tools/quick-guide for a quick guide to upload and submit your order via Online Designer.
Sehingga hari ini, kupon ni masih boleh digunakan so kalau berminat nak buat jugak boleh klik link :